Daryl + Deborah // The Summerhouse Wedding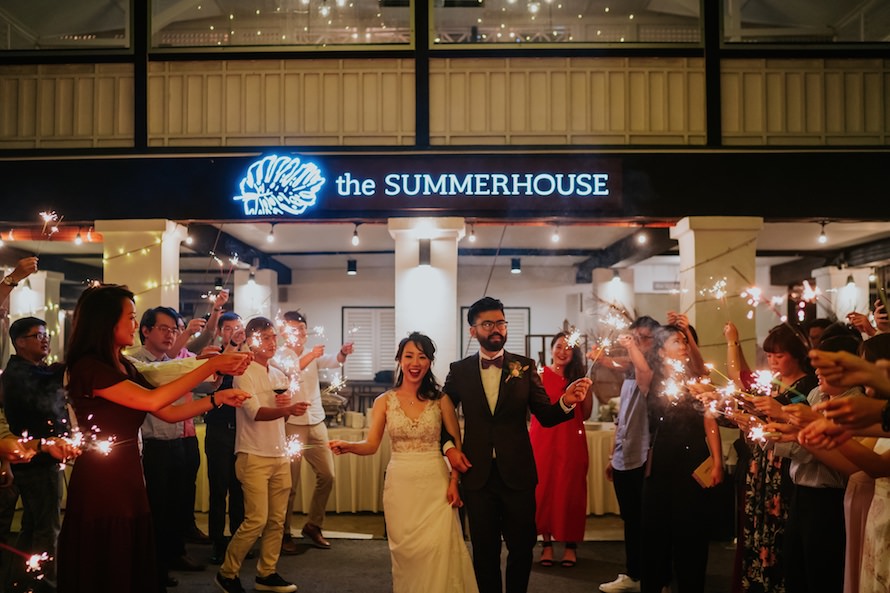 Nothing makes our day more than to receive emails from couples that are sincere, and informative. We especially like reading more about the couple, their stories, the fun bits, the odd bits, and everything that helps us to know them better, even before meeting up with them. These emails certainly get us ecstatic, and energized, knowing that they are as excited as us over their wedding!
Here's one from Daryl and Deborah. Their wedding was such a blast; just like what they've envisioned. What better way to top off their celebration with free flow booze brewed by the two of them ! :
Hi Weizhen and Yuli! Daryl and I met in 2012 when we were in Berkeley for summer school, and we got together 5 years ago. Daryl is smart, stable, and the voice of reason to my unpredictable ways. In return, the silly things I say, and my misadventures bring excitement and fun into his life. Food is a central theme in our relationship. We love having good food, whether it\'s a hearty plate of char kway teow or a 10 course meal at a Michelin-starred restaurant, and our love for consuming and creating food has provided us with endless moments of fun in the last five years. Daryl\'s expertise is in brewing beer and meads, roasting meats, and searing a good piece of steak, while I\'m typically in charge of the side dishes and desserts. There are few things we love more than throwing parties and cooking for the people we love. And we hope that our wedding will be exactly that – throwing the party of our lives and having all our loved ones celebrate with good food and good booze with us.
As much as we love our craft and job, there is always the 'less exciting' administrative hat that we need to wear. Replying to emails (and messages), that is. Honestly speaking, we do get lots of emails with a simple one liner requesting for photography (and some even asking for videography!!). Imagine sifting through emails that look identical except for the dates, or even without… 😛
Wedding Venue: The Summerhouse
Wedding Gown: WeddingCrafters | Thomson Wedding Collection
MUA: Charmaine Tok | Zihan Makeup
Videography: Rekord Haus
Flowers: Bloomen | Florals by Benita | Hello From Flour
Styling: Hello From Flour
Craftbeer: Daryl's Urban Ales
Ice Cream: Birds of Paradise