Elijah + Christine // Lofoten Islands Adventure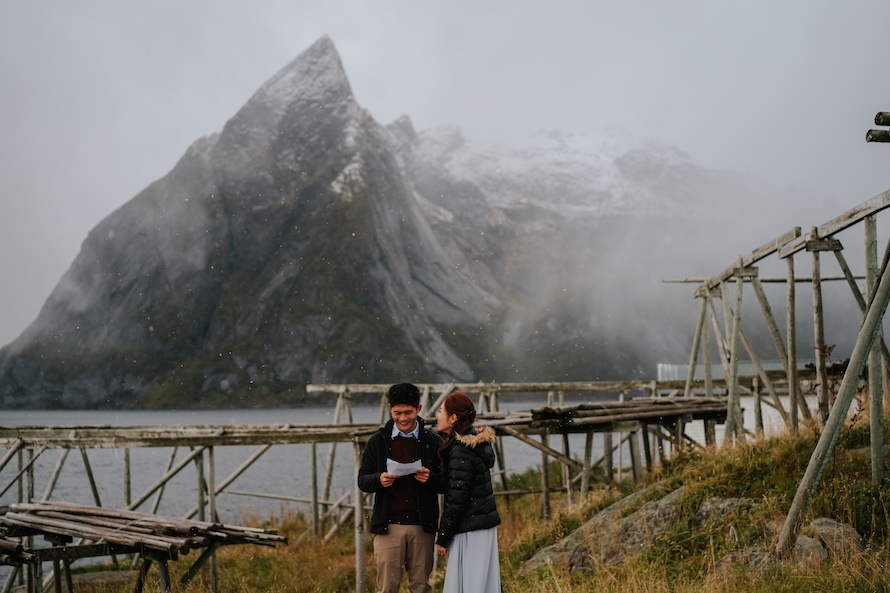 The Lofoten weather is erratic, but fitting of it's dramatic beauty. It seems bitter and daunting to be out in the wild, and often humbled even the bravest souls who dared to dance in it. At times, we had to wait out for the freezing rain in the car, turn our backs against the biting wind for it to pass, or warm ourselves up with a cuppa.
We fondly recall a particular afternoon when the freezing rain finally gave way to a glimmer of hope – a momentary dose of sunshine with the snow capped peaks revealing it's glory. We rejoiced!
Alas, mid way through the session with Elijah and Christine, the wind picked up, turning into gale, hail, and finally snow.
We wanted to stop them and head back to the safety of our fisherman's cabin in Hamnøy. But watching these two through our viewfinders, unfazed by the weather, and reading their heartfelt words to each other with such conviction, we simply couldn't bear to do it. Wrapped in these heartwarming moments were the tears, laughters, thoughts, feelings and shared experiences that binded them in this life journey together.
Elijah and Christine, thank you for opening up your hearts to us, and allowing us to be a part of your precious adventures! We are sure you guys would definitely be able to tear and laugh through life's ups and downs together, just like in these weather elements!
Wedding Gown: WeddingCrafters