Wei Chong + Mio // Traditional Shinto Wedding Ceremony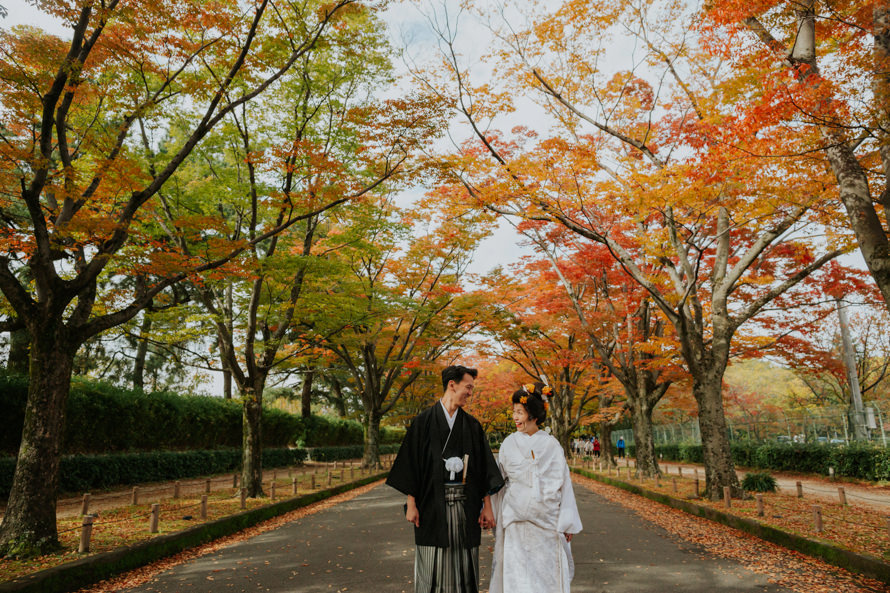 Wei Chong and Mio celebrated their union in Kamigamo Shinto shrine witnessed by their dearest family and friends. They started their day early dressing up in their elaborately designed kimono (Japanese traditional garment). The level of detail and complexity involved in wearing a kimono is by no means a small feat. It was spellbinding watching the kimono dresser assisting Wei Chong and Mio in putting on their kimono, layer by layer.
With some time on their hands before their ceremony, we spent some time capturing moments of them exploring the charming old streets of Kyoto. Before the start of their Shinto ceremony, Mio changed into a white kimono and donned a tsunokakushi (white head dress). It was definitely one of the most elaborate and gorgeous wedding dress we've seen. What ensued was a simple yet intricate wedding ceremony with its spectacular procession; a beautiful ceremony so symbolic, and intimate, that it feels like a scene out of an ancient Japanese movie!
Despite their different traditional and cultural roots, the warmth and joy of their celebration, and blessings from everyone present permeated the crisp cool autumn air. Language also poses no barrier, for happiness is so contagious, it needs no words.