Stok Kangri Summit Climb // Ladakh, India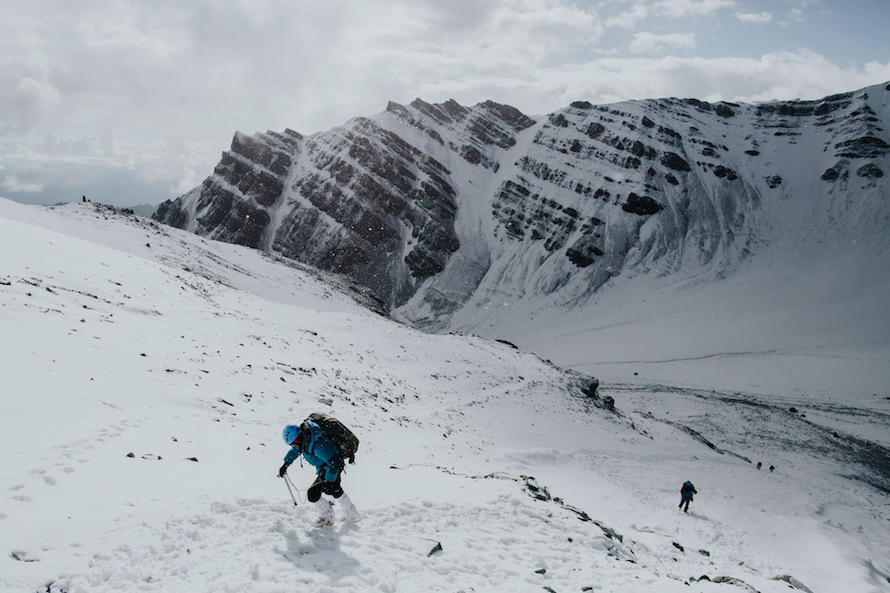 After a short rest in Leh, we set off again, this time for a climb to the summit of Stok Kangri. Standing tall at 6,123m, we knew it wasn't going to be easy, and were hoping that our 10 days of trekking and acclimatisation would pay off. It would also be a test of our physical and mental resilience.
Dark clouds loomed above us for the next 3 days as we made our way steadily towards base camp (4,950m). Rain, hailstones and snow became a common occurrence, with the warm sun and blue skies taking a back seat. Miraculously, the weather cleared on our summit night. At 2am, with our bellies filled with spicy warm instant noodles, we were geared up and ready to go. Six of us, together with our guides, threaded our steps carefully up, to the glow of our headlamps. Our near 11 hours summit push saw us through snow ladened terrains – crossing glaciers that glistened at first light, negotiating snow dusted loose rocks with our clumsy crampon works, and scrambling up near vertical faces before the summit came into sight.
The moment on the summit was magical. Perched higher than anything in the distance, it's just us, and the prayer flags fluttering in the whirling icy breeze. We could look down to the surrounding and faraway (and endless) mountain ranges, and I wished I could share this surreal moment with YL, who had turned back midway due to bad stomach issues.
It had been a really fulfilling one month spent in the mountains of Ladakh, India, getting out of the urban labyrinth, training our lungs in high altitude, and living simply. We constantly find ourselves in search of light and raw beauty around us, much like a way of life – to not only see with our eyes, but to also feel with our hearts; the moments, the land, the people, and the intricate fabric binding it all. We treasure the journey of exploring the unknown and are really thankful to have met all the folks and new friends on this journey!